THE EARLY YEARS. Owen is a proud Virginian. She was born in Leesburg, which is in Loudoun County, 35 miles west of Washington DC. However, she grew up in nearby Waterford, the oldest child of William Baylor Metzger and Clare Briggs Metzger. Rounding out the family were two sisters, Ellen and Elizabeth, and a brother, Billy. In addition to working as an office manager in a local industry, Baylor was a businessman, a gentleman farmer, and an expert horseman. He passed his love of horses and riding to Owen when she was very young, and Owen became quite an accomplished rider herself later on. Clare was a stay-at-home mother, but many remember her as a very talented artist and illustrator, having inherited this trait from her father, the syndicated cartoonist in the early 20th century, Clare Briggs. Unfortunately, Owen is sure she didn't inherit this artistic gene, but may have passed it on to her son, Alex, who signs his work as Baylor Briggs.

FAMILY LIFE. Owen and Richard married in Los Angeles in 1968 and moved to Hagerstown, MD in 1972. The years in Maryland were special ones. First, she was able to be closer to her mother, sisters, and the rest of her Virginia family, and secondly, sons David (1974) and Alex (1978) joined the family. Owen was very active in several clubs and other organizations while in Maryland and was honored by the city of Hagerstown as one of its top 25 volunteers.

In 1980 the family moved to the Clear Lake area near Houston, Texas. Owen immediately became involved in many civic and charitable activities including the Bay Area Assistance League, the Clear Lake Forest Women's Association, Lunar Rendezvous Festival (recognized as the LR Volunteer of the Year in 1990), PTA officer (including President), room mother, team mom for her sons' sports teams, and many, many more. In addition, for several years she was the co-editor of the Taylor Lake Village newsletter, The Forest Log.

These days, besides enjoying the time she spends with her family and friends, Owen likes playing social bridge and has been known to attend competitive bridge tournaments (quite successfully), traveling (especially cruises), participating in Beta Sigma Phi sorority activities, and continuing to serve as a volunteer for many civic, charitable, and church activities. She is also an avid fan of Jeopardy.

Owen can also often be found on the internet keeping in touch with family and friends, finding travel bargains, and exchanging ideas and experiences with other cruise enthusiasts on cruisecritic.com and other cruise-related message boards and web sites.

Owen and Richard have been on over 40 cruises (including 16 Trans-Atlantic cruises, and counting). Several of these were group cruises that were organized by members of the internet cruise community. The larger internet group cruises have attracted anywhere from 100 to 400 people, while the smaller ones (mini-group cruises) have typically involved as few as 10-20. Group cruiser participants have come from, not only the U.S., but Canada, Australia, and Europe as well.

Of course, the big news is the arrival of her first grandchild, Julianne, in October 2012. It was very exciting and Julianne is such a blessing from heaven.



Julianne is checking out her Grandmother.



Elizabeth, Billy, Ellen



Owen, and Forest Log co-editor, Ina Webb, receiving an award from Taylor Lake Village mayor, Jim Cummings.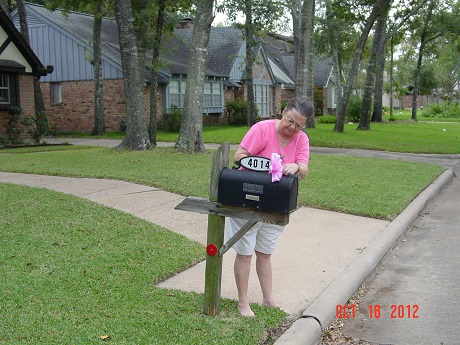 Announcing the arrival of Julianne Whitlock to our neighbors



Owen, holding her granddaughter for the first time.